When to use Featured Property of the Week?
Categories: Maximising your Rightmove membership
---
Featured properties typically get double the detail views of a standard Rightmove listing. More people looking at your listings should mean more enquiries, more offers and a quicker sale or let.
Featured Property of the Week can help you address three of challenges of the market heading into the slower Christmas period: reducing prices, relaunching properties back to the market and winning more new instructions heading into the new year.
Not sure how to apply Featured Property of the Week? Not to worry. Click here for a step by step run through.

#1 Price reductions
If you're recommending reducing the price of a property to get a sale or let agreed this side of Christmas, use Featured Property to re-launch with a bang at the new price.
It'll maximise the property's exposure to a whole new audience of buyers or tenants searching in the lower price range, giving you the best chance of getting lots of early viewings booked in.
Top tip: use your Marketing Report in Rightmove Plus to talk your agent through your price reduction recommendation and how applying a Featured Property has helped increase demand.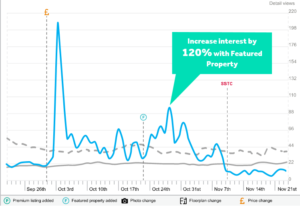 In this example, the agent's Detail Views (the blue line) were well below those of "similar properties" (the black dashed line). If a property is getting less interest than those that appear in the same Rightmove searches, it's a good indicator that it is price too highly.
The agent reduced the price and then applied a Featured Property, causing a 120% boost in views which ultimately led to the properties being sold subject to contract.
#2 Relaunching properties back to the market
Fall throughs usually increase at this time of year, with vendors and landlords delaying decisions until the new year.
If you've seen a deal collapse, featuring a property is a great way to let motivated buyers or tenants know that it's back on the market and to get viewings booked in again as soon as possible.
#3 Winning more instructions

With the new year giving some home owners the kick they needed to get moving, you'll no doubt be filling your diary with valuations in January.
Offering a Featured Property of the Week as part of your package is a great way to prove your superior property marketing service in comparison to your competitors. Explain how you can promote their property as Featured Property of the Week to really maximise interest from day 1 and get them a result as quickly as possible.