Property price reduction trends for 2019
Categories: Maximising your Rightmove membership
---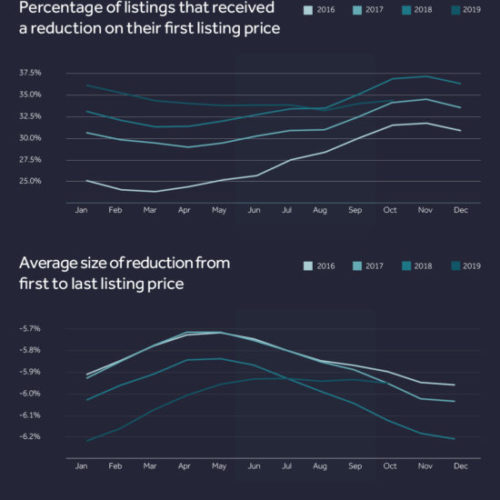 When looking at reductions there are two key factors at play – the number of properties that have been reduced and the amount they have been reduced by.
On average, 34.3% of properties have received a price reduction so far this year, up on the 32.9% across the same period last year. The average size of reduction from first to last listing price so far this year has been 6.0%, similar to last year's 5.9%.
Usually after the spring market, we see more properties being reduced and by a higher amount, but this year we've seen the size of reductions and the number of properties being reduced remain flat. This could be a sign that more sellers are taking their agent's advice and recognising the need to be more price sensitive from the outset.
When you price a property correctly from day one it makes finding a buyer easier. In fact, you're 40% more likely to be the agent who sells a property if you price right from day one*. You can use Rightmove's Best Price Guide to help you do just that…
Price to Sell with the Best Price Guide
The Rightmove Best Price Guide lets you back up your expert pricing recommendation with a personalised report containing hard evidence and market insight from a trusted brand. We've just re-built it to make it easier, faster and smarter for you to use.
You can watch our quick 15-minute demo below, or click here to watch the full webinar on demand where you'll learn:
Build a personalised valuation report for your next vendor or landlord – by choosing the right comparables and adding a personal touch
Understand and interpret the market insight charts
Create a report that helps you overcome a competitor's over-valuation
Demonstrate your proven expertise at selling and letting similar properties
You can find these insights and more in the 2019/20 edition of the Little Blue Book, available online here.
Stay up to date with the latest news and insights from Rightmove – follow us on LinkedIn
Source: Rightmove data 2019