How home movers' priorities are shifting – exclusive research
Categories: Maximising your Rightmove membership
---
Our new study has revealed what buyers and renters are now looking for in their next home, using both Rightmove user data and a new survey of over 4,000 home-movers.
At-a-glance headlines
The most sought after property types being enquired about are all houses and bungalows, with all types of flat dropping out of the top five:
Renters looking for a garden has led to studio flats being replaced with two bed houses as the most sought after property type
Buyers on the hunt for more space means two and three bed flats are out and four bed and six bed houses are in
Half of renters (49%) and over a third of buyers (39%) currently in market say lockdown has impacted what they're looking for in their next home:
Biggest change for both groups is wanting a bigger garden or access to a garden
Searches for homes with gardens on Rightmove is up 84% for renters and 42% for buyers in May compared to the same month last year
Over a third of buyers (36%) and a quarter of renters (26%) want a better home workspace, and almost a third of buyers (30%) say they want to live in a rural area
Good internet and a spare room are now higher up on wish-lists, commuting times and transport links are less important
Since the market reopened activity has been surging, with both visits and time spent on Rightmove both hitting a new record on Wednesday 3rd June, with over seven million visits. Here's a summary of the key findings:
Bigger houses are on the up
The desire for more space, a bigger garden and maybe even a spare room for a home office has led to flats falling out of fashion with both buyers and renters in the current market. The findings are worked out by taking the number of people enquiring about each property type on Rightmove and dividing by the total number of available properties of each type to gauge how much competition there is for each type.
Comparing the start of the year with May and also with the same month last year, all types of flat are now gone from the top five.

Shifting priorities
Half of renters (49%) currently in the market that we surveyed say that lockdown has had an impact on what they're looking for. The five things it has impacted most are wanting a bigger garden or at least access to one, wanting to live in a bigger home, wanting to live in a pet-friendly home, wanting to live closer to parks and green spaces and wanting access to a parking space or a garage.
More than one third of buyers (39%) in market are also changing what they're looking for. The top five things most impacted are similar to renters, with the exception of wanting a better home workspace taking the fourth spot.
Searches by buyers for homes with gardens on Rightmove are up 42% in May compared to May 2019 and for renters they're up 84%.
Our advice for agents: "Usually home-movers tell us the kitchen photographs are the most important when they're looking at a property advert, but now agents should consider giving greater prominence to pictures of gardens and outdoor spaces to attract the attention of prospective renters and buyers. To add to the photogenic garden appeal, a quick lick of paint on a fence, or a clear out of a shed to show how it could be a lovely summer house, can make all the difference when selling a lifestyle to a would-be buyer or tenant. Communal gardens sometimes get left out of rental listings but they should definitely be including them now too."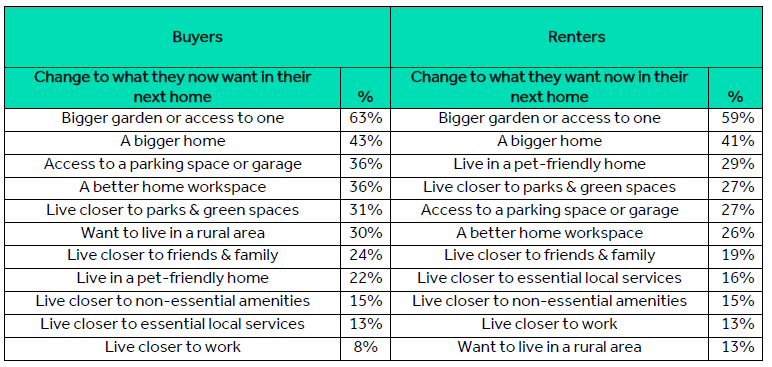 Home-working
Half of the people surveyed (49%) said they are currently working from home. Of those, one in five (21%) said they would like to work from home permanently, and 55% said they would like to work from home more but still occasionally go in to work.
The study indicates an interest in a transition towards more frequent home working, which could lead to a shift in what people prioritise in their search for a home. Good internet and a spare room are now becoming more important and transport links less important.

Our advice for agents: "Usually sellers living near a train station or a tube station use this as a selling point and can command a premium price for their home, but that isn't going to be such an important selling point for those buyers now expecting to work from home more. It's now all about showcasing a spare room in the best way. If there is a room currently set up as a small bedroom, sellers would do well to acquire some cheap office furniture, so they can show people how their home office could look. Fast internet has always been important but now it will be a must."
Escape to the country
The desire to live somewhere quieter and with access to green spaces is something we have already started to see coming through in changes in buyer activity, with a shift in more people living in cities looking to move out. The study shows that buyers are more likely than renters to make the move to the countryside, with almost one third of buyers (30%) saying the lockdown has now made them want to live in a rural area, versus 13% of renters. One in five first-time buyers (19%) say they now want to live in a rural area.
Community and life interests
Over half of people surveyed (57%) said they feel there is now a stronger sense of community in their local area than before lockdown, something that we know from previous reports affects how happy people are living in an area.
The new life interests that people say they plan to continue doing after lockdown could also affect what they look for and which location they choose for their next home. The three activities that people are most likely to continue doing in the future are exercising outdoors, reading and gardening.
Activities that have seen the greatest increase in uptake since lockdown have been exercising at home, arts & crafts and DIY.
The survey was conducted by Rightmove between Thursday 21st May and Tuesday 26th May. There were 4,692 respondents.