We've made some changes on Rightmove to help lettings agents comply with the Act. Lisa explains all in this 6 minute video, or you can read the details below.
The new legislation requires agents with properties in England for let to publish the following information on Rightmove as well as other third party websites from 1st June 2019:
Permitted payments
Details of your membership and name of the redress scheme
Details of your membership and name of any client money protection (CMP) scheme
Best Practice:  Your CMP Certificate
Agents are already required to publish the details above on their own websites under the Consumer Rights Act 2015.
New advice!  The government has issued new enforcement guidance for local authorities.  They advise that as best practice agents should also publish a copy of their membership certificates on third party websites, including Rightmove and the certificate should be published alongside listings on portals.
You can post your Client Money Protection (CMP) Certificate on Rightmove by using the "Brochure" links on each of your property listings.  Please be aware that this isn't a legal requirement for agents, but it is best practice.

What about agents who let properties in Wales?
Agents who let and manage rental properties in Wales must be licensed by Rent Smart Wales. New legislation imposes further requirements on agents. We require agents to include details of their CMP scheme and licence of Rent Smart Wales on Rightmove*. These changes will come into effect later this year under The Renting Homes (Fees etc) (Wales) Act.
* Permitted payments may also have to be published on Rightmove when legislation comes into effect later this year. We will update our guidance at that time.
Where to display the new information on Rightmove
Previous to the 1st June 2019, agents were required to display their fees on Rightmove using the 'Fees Apply' link found below the price of rental properties on the Property Details page.
We've now changed this link to 'Tenancy Info'. The new Tenancy Info link displays all the information required by new legislation so that prospective tenants can see all the relevant information in one place.
Your CMP certificate will appear as a link below the property description on the property details page, along with any other brochures you choose to upload.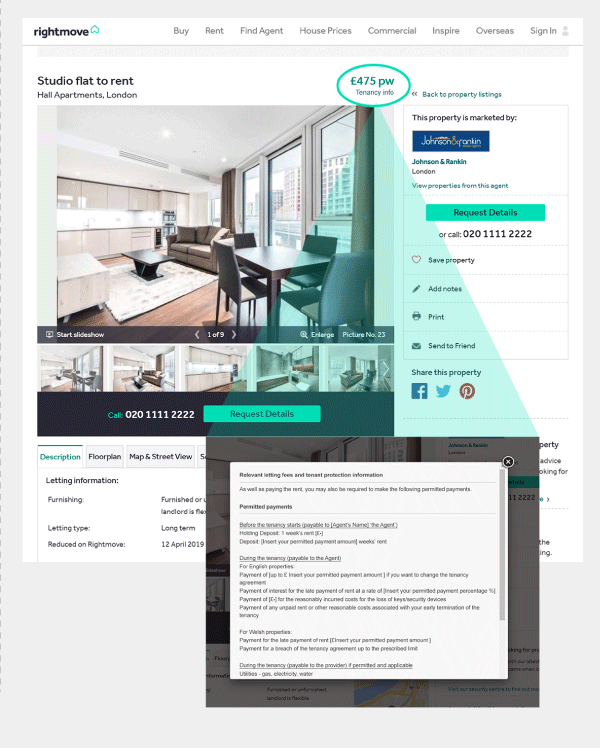 We recommend that lettings agents use this "Tenancy Info" space on Rightmove to display all the required information under the Act.  The information can be updated either via Rightmove Plus or through your software provider if you upload your properties to Rightmove via a datafeed.
You may also upload your CMP certificate in the same way you upload your brochures if you follow the best practice advice.  Those links will appear at the bottom of your property details pages.
You may choose to display the information required under the Tenant Fees Act in other areas of Rightmove such as your Agent Microsite or Brand Profile page.