Just released: Relaunch Email Alerts
Categories: Maximising your Rightmove membership
---
We're hearing from agents about the hard work you've put in to retain instructions. We want to do our part to help, by making sure your properties launched at the outset of restrictions get their fair share of exposure.
To do that, we'll be sending a series of Relaunch Email Alerts to over 1.2 million buyers registered for email alerts, to help you attract buyers on those properties most impacted by lockdown.
Residential sales properties in the UK which were added to Rightmove between 29th February and 13th May will automatically appear in those alerts, when they best match the buyers search criteria.
Over the next month, we'll send out a series of three Relaunch Email Alerts to buyers, to help the properties you launched during the height of coronavirus restrictions get their fair share of exposure.
Relaunch Email Alerts at a glance: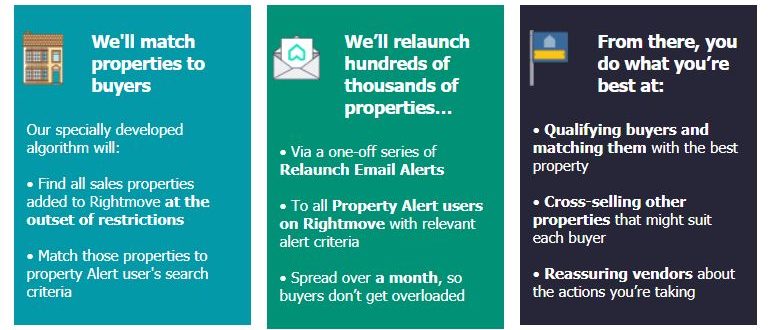 How it works:
The algorithm has been designed to relaunch as many properties as possible, without overloading home-hunters with too many emails, or long lists of properties.
We'll automatically display properties which were added to Rightmove between 29th February and 13th May. This covers the three weeks leading up to UK-wide lockdown on 24th March, until the day the property market could re-open in England, when we saw a sharp increase in activity on Rightmove. Based on our analysis, those are the properties most impacted by lockdown restrictions.
The whole process will be automated, so manual selection of specific properties will not be possible. This is where your skills at cross-selling come into play – when a buyer gets in touch about a property from the relaunch alerts, you can share other properties they may also be interested in.
How can you make the most of this added exposure?
Relaunch Email Alerts are one part of our 10 Point Plan, aimed at giving you the tools you need to kick-start your local market. Here's some of the training and tools you can use, as a Rightmove member, to make the most of the extra exposure your properties will receive.
1 – Get your team ready to cross-sell 
You'll already have your team knowing their stock inside out, ready to match buyers to properties. Here's some added coaching from industry trainer, Tony Morris, that you can share with your team to help them ask buyers the right questions to get the most out of every interaction.
Get more out of every applicant
2 – Activate new Online Viewing features 
When buyers click through from the Relaunch Email Alert, you can highlight that you offer Online Viewings. Applicants can request an Online Viewing when they send a lead and they'll receive your video to their inbox automatically.
COMING SOON: Your branded video page will support YouTube videos, as well as Vimeo.
How to use the latest Online Viewing features
3 – Reassure your vendors 
Now that demand is increasing, let your vendors know how you'll re-ignite interest in their property and your plans to keep them safe during viewings. You can also use the new Local Market Indicator to show buyers and vendors how much demand is in your local area.
Get demand insights for your area
4 – Reignite your property listings 
According to our recent survey, home movers' priorities have changed – features which previously took second place now need to be more prominent. Plus, some home movers may need reassurance of your approach to safe viewings post-coronavirus.