How to refocus your marketing (and yourself) during the crisis – with Richard Rawlings
Webinar recorded live:
Categories: Guest speakers & industry specialists
---
Agency success coach Richard Rawlings joined us on 31st March to share his ideas on "appropriate marketing" during the current climate, including a Q&A.
Watch the replay above or jump straight to a summary of Richard's key take-aways in the notes below.
Making the most of the unexpected gift of time
It's time for a re-think. The thing you now have is time. Time to spend doing the stuff you should be doing when you don't have time – like thinking about your strategy. I think you have 3 choices here:
1. Choose to be a victim. You'd get a lot of sympathy if you went this route and let your business fail – but it wouldn't be much fun.
2. Go the cautious route. "Wait and see" and batten down the hatches until some future date.
3. The only really choice…choose to engage. Harness the benefits of thistime and emerge stronger.
You've been given the unexpected time. Use that time to reinvent yourselves. In tougher times creativity really flourishes.
Ask yourself, "if I was going to open an estate agency today, what would it be like?" In any other time, if you'd been given 2 or 3 months off to plan that it'd be an absolute privilege. You've now been given that privilege on a plate. For the entrepreneurially minded, this can be a very creative time.
One bit of advice: do not waste a single day. If you treat it as a month of Sundays, or as the relaxing time between Christmas and New Year, you're going to struggle.
The reality is that some businesses are going to close. Your competitor pool might even shrink. But what you do during this lockdown period will determine how successful you are when you get through this.
The market will bounce back and you need to be ready to service a lot of pent up supply and demand.
Are you tough enough to make the changes required to make this work for you?

What's an appropriate marketing message?
Your mission hasn't changed. Your role is still to help people move.
Yes, they can't physically move. But you can still help them move – just a little bit differently. Perhaps more sensitively, more empathetically, more patiently.
Messages like a free valuation and competitive fees won't cut it anymore. They'll cheapen your brand and you've got to be smarter than that. My view is that it's wrong and inappropriate to be pursuing business directly at this time. You'll look disconnected from reality.
Think instead about helping people move.
• You're a sort of counsellor now. How do you communicate that counsel? How do you communicate your good advice? Start by creating engaging content out on your blogs and social media so you're letting people know the good you're doing.
• Be generous with your advice. Forget secrets.
• Don't just dump your stock on social media. Focus on very local content. People aren't going to be interested in what the housing market is doing at a national level – they only care about their very local area.

A 6 point checklist for writing great content
Any content for your blog, social media, email newsletter etc that you create at this time needs to be:
– Engaging
– Informative
– Challenging
– Relevant
– Meaningful
– Timely
Does it prompt the reader to do something? You want them to think "gosh, I never expected that, that was interesting".
A great test to do is to ask yourself "If I gave this to someone personally, would they thank me for it?" If the answer is "yes" because it would educate or entertain them, you're on to a winner.
Richard has a free guide to writing great content that you can access on his website at: EstateAgencyArticles.com

What free forms of marketing could agents and developers be doing? Is a phone call better than a written message?
It's always better to call and speak to people because you've got their 100% attention and they've got yours. But if you've got thousands on your database, that's a tough ask.
A phone call and written marketing go hand in hand. People respond in different ways. Marketing people say you need to be seen in six or seven different places to be remembered, so if someone's read about you and then they hear someone talking about you and then they get your email, then you call – you've got several different routes to that person's brain.
See it as the stuff you send out as prepping them for when you do call. They'll be pleased to get a personal call from the expert who's been sending them all this valuable content.

What to say on a phone call – 7 questions to ask
You probably won't be pushing hard to get a valuation or view a property, but you still need to connect.
Remember (see first section above) you're preparing for your new agency 2 months down the line. You're helping people move and preparing to help people move.
I'd suggest calling for a chat and doing a quick survey. You'll have a decent, non-salesy, conversation and also come away with great content you can write about.
You might open with something like "Hi it's Richard from Rawlings Estates. I hope you're safe and well. How are you finding things? The reason for my call is I'm currently working with buyers and local homeowners to build a picture of attitudes towards the property market in Chelmsford. Could I ask for your help please? I've got 7 questions." (If you ask for help, they're more likely to give it, and you've set the expectation it won't be a long call).
Questions you might want to ask are:
1. How long have you lived in your current property?
2. When did you next expect to move house?
3. Where were you in the process?
4. What was your main reason for considering a move?
5. If that reason is still valid, how is the pandemic affecting your moving plans?
6. Do you know any vulnerable people who might need help at this time? (Remember Generosity – show some kindness and empathy).
7. If the lockdown was lifted tomorrow, would you still consider moving?
At the end of it ask them if they'd like to see the results of the survey. Then you've got a reason to contact them and share something helpful.
Anything that gets them to say "yes" is a good thing as you're getting permission to continue to engage.
This survey could also work in an email or social media – but you're likely to get more engagement and have better conversations over the phone.

Continuing to win appraisals in a virtual world – build a Private Portfolio
Some agents are doing virtual appraisals. You could ask people to FaceTime or Whatsapp a tour of their home.
You could even take that further by offering to market their property quietly to hot buyers, even though they can't see it. (You will need to get an EPC but if you order one, you're allowed 28 days to market it without one – and those rules will hopefully be relaxed).
Say "Look, we've still got hot buyers out there. The market hasn't died, it's just that they can't physically see the property. But if I can look at your property online, I'll be able to assess whether it could potentially be suitable for one of our hoy buyers when the lockdown is lifted and we'll keep in touch with them."
People want things more when they can't have them. What you could suggest to sellers is that you'll add it to your "Private Portfolio". They're not technically on the market or available for viewing but you've still captured them and in the background you're discussing them with buyers. Then when lockdown is lifted, you've got a ready made list of people queuing up to view.

The importance of community
Putting yourself out there and offering help in your community is incredibly importantly to building goodwill for when the market bounces back.
Lots of agents are sharing great examples of this. Charters in Winchester shared on LinkedIn yesterday how they'd helped drop off prescriptions at the front doors of people who needed them.
Verity Frisson had signed up as NHS volunteers. What a fantastic thing to do. Not necessarily deliberately, but also what great publicity. What you've now got is a picture to share of happy, smiling, engaged professional people who are actually human. They look nice, they look friendly and this kind of thing will stand you in good stead in the future.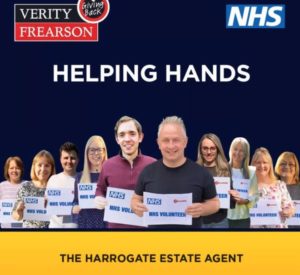 If you're reading this and you'd like us to shout about the great work you're doing in the community, please drop us an email at marketing@rightmove.co.uk. We'll be sharing as many stories as possible with our audience of home movers in our blog, social media and email newsletter.

Is it appropriate to be sending mail at the moment?
It's never a wrong time to communicate, it just depends what you say.
I don't believe it's a good time to stop marketing. 40% of the stock that was on the market last month has been withdrawn, and most of them will come back when the lockdown is lifted with renewed urgency.
Don't go for the hard sale but consider some content around helping them prepare for a future sale.
What advice can you be giving them now to get ready?
Think about how mail works alongside your other channels. You've got a huge choice of marketing channels and every touch point is an opportunity to form an impression, to multiply your engagement and multiply your empathy. It's more important that you create something useful and valuable. Be bold, express your opinions and create something they will truly value.

What one thing would you be focussing most time on?
Trying to have as many good conversation as possible with your database. Phone everyone you've ever sold to in the past. Ask them if they're enjoying the house, remind them how much you enjoyed helping them move. As them if they ever did the extension? Offer to come around and value it again when the lockdown is over, if it feels appropriate based on the conversation you're having.
So often we do a sale, it completes and the communication stops. We build up an almost friendship and then it stops. Let's use this as an opportunity to continue those friendships.
Remember you now have the gift of time. Use it to be nice to people and it'll pay off in the long run.

Using video for appraisals and viewings
In normal times, I'd agree with agents saying that nobody's going to buy a property unless they actually see it. But we aren't in normal times. Everyone knows they can't see properties and most will still want to see it eventually before they commit, but that shouldn't stop you warming them up.
Get potential vendors to show you around over FaceTime or record their own video. It's then about how you talk about it to your buyer. It's all about "authenticity". You could say something like "Look I've got someone thinking of selling as soon as lockdown's over. I've got a really wonky video from them but let me share it with you so you can see it. If you like it we can log you as being first in line for that house as soon as it's on the market and when lockdown's over, you'll be the first person around." That person is then already feeling a connection with the property and you're creating some excitement.
You might even push it a stage further for a virtual office. It's not a commitment, but ask them what they'd be prepared to offer subject to a physical viewing down the line.
My view is that the new way of using video is going to help agents be more authentic. We used to be an industry where people would dread being on video if they hadn't done their hair that day. I think we're over that now. People want to see the real you, the authentic person who's there for them, the local expert who is generous with advice. And video is the next best thing to being there in real life.

Should we be worried about clients taking their own photos? What if the quality of our photos is our USP?
I think they can actually help promote the quality of your own photos even more. I would just stick the photos online but with a flash/overlay saying they're client-taken photography. So that know that if it's a lovely photo that you've done it. It conveys that you're happy to work with a client in this new form of partnership and when the time comes to take your own down the line, they'll really notice the difference.
I'm all for it. Just make it really clear the seller took the photographs.

Any advice for lettings agents at this time?
Again, it's a chance to do the right thing, be open and empathetic and use your time to have more conversations.
Most agents don't bother checking in with tenants unless they need do. But now is a great time to, in order to reassure them and your landlord. Call your tenant to check in then proactively call your landlord to update them on the situation. Let them know the tenant is comfortable, or update them if they have been furloughed but still have money in the bank and have assured you the rent won't be a problem.
Obviously if there's a problem with the rent, you need to address that and find ways around that challenge to address it in a way that's sensitive to both the tenant and landlords needs. Lots of help has been provided by the government and banks to try and help find mutually agreeable financial solutions that could work in the short term and your job is to help facilitate a solution.

Advice for agents with sellers considering withdrawing from the market
It's a matter of you saying something like "Look, obviously the world has gone pear shaped. We're with you on this and we know your objective is still to move house. It's not going to happen immediately, however we're finding a number of buyers are still keen because people have got time at home and are using that to look. So people are still looking and let's just hang in there.
Would you still want to sell if this wasn't happening? Yes. Of course. I guarantee you that if you withdraw it from sale, you will not sell. Do you still want to sell?"


Richard Rawlings is a multi-award winning estate agency trainer and content writer, with a truly global client base. Regarded by many as the UK's leading authority on radical estate agency technique, Richard's mission is to keep his estate agency clients at the very top of their game. He understands the issues facing modern estate agents and has a vast resource of innovative solutions, some of which will surprise, even shock, this webinar's attendees.