How times have changed for letting agents with Frank Webster, former vice-chairman at Finders Keepers
Categories: Guest speakers & industry specialists
---
Author: Frank Webster – Property Consultant, F C Webster Consulting Limited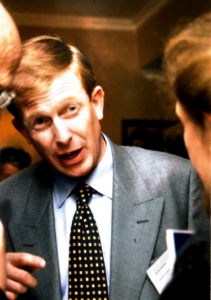 When I started in this industry, I was 18 years of age and a career in property wasn't on my radar. My father spotted the advert for a 'Trainee Negotiator'- he thought I'd be good at it. I applied and got the job.
I loved it from day one –the people, the property, as well as 'the deal'. The sector gave me a buzz; it still does to this day.
After 6 years or so focused solely on estate agency, I was offered a job with a relatively new company 'Finders Keepers' – primarily then acting for buyers – mainly UK expats living and working overseas.
Intrigued at the idea of using my knowledge in a different way, I ventured to pastures new as a Property Manager. That was 1985 my switch to property buying, renting and letting was mocked by some of my peers. I never looked back.
We won many awards and grew to 120 staff and 8 offices and over 3,500 landlords. Due to the retirement of senior directors, it was eventually sold to a corporate in 2016.
Housing laws were very different back then; very pro-tenant and with landlords totally ignorant of the need to improve standards. Our business was founded and developed on client's needs; educating them about the changing market, it was a daily battle to improve standards.
Roll forward to early the 2000's and our obsession with bricks and mortar grew. Our business grew too on the back of more balanced housing laws, easier finance for second homes and reduced travel costs as well as ever-rising house prices; yet there were many different and fluctuating markets along the way.
Pre-property portals and pre-internet meant using card boxes to track and keep in touch with your applicants. We telephoned our landlords or sent cables, because they were based around the world often in remote places. Mobiles then were too costly. The fax machine helped ease correspondence, tenancy agreements used to be manually typed out until word processing was introduced and then sent in the post.
The plus side of this being that we actively wrote letters and regularly talked to our clients and tenants (yes, we really did!), we had face-to-face meetings, often clients would pitch up unannounced from Heathrow or we held special landlord seminars, perhaps we were a little ahead of our time.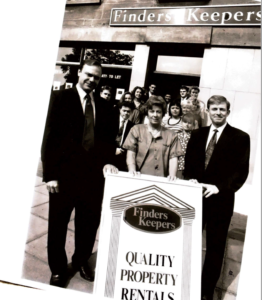 I recall the buzz and excitement of our front office, which was always full to the brim with the noise of people arriving from around the world to start their new job and rental in Oxford. Suitcases were piled high and taxis were waiting outside to whisk off the new arrivals once they'd completed the paperwork and met our team.
Relationships were formed – I'm still in touch with landlords from around the world and even stayed with one fantastic couple in Boston, USA – who have become great friends
When it came to marketing, we didn't have 'board companies' – we carried boards in the back of our cars and put them up ourselves. We took our own photos and produced or own write-ups; working hard to ensure they were photocopied and in the post that night. One of my earlier jobs was to ensure we caught the last post at the main sorting office in central Oxford.
We put together the advertising for the Oxford Times weekly newspaper, considered then a crucial part of our marketing. Colour photos were just coming in which we stuck on to the photocopied particulars.
We re-lit boilers that went out (highly dangerous looking back now!) and warmed frozen pipes with blowtorches or hit central heating pumps with hammers to get the heating going again. If the property hadn't been cleaned well enough, we had to clean it ourselves and cut the grass if necessary.
We had fun too; we met amazing people from around the world, who lived interesting lives and had somewhat unusual habits.
A fond memory I have of meeting people from different cultures is one of an Asian man who rented a well-appointed ground floor apartment. Adjacent to the apartment on the wall was the registered nameplate of the limited company formed on behalf of the Resident's Association.
The tenant mistook this as a British custom to have your own nameplate outside your front door – he unceremoniously removed the official resident's plaque, replacing it with his own name and title.
I remember how excited we were when Oxford based author Colin Dexter (writer of Inspector Morse) called into our office for help. He was researching a new book. The murder victim was a tenant and he had never rented and wanted to know the process.
We obliged. In return, he agreed to 'mention' us in the book 'A Way through the woods'.
"Morse walked into the inner sanctum of Finders Keepers and past the receptionist". Immortalising Finders Keepers forever, sadly though they filmed the TV series in London where it was apparently more cost-effective.
Lastly, the poor decorator we sent into the Old Rectory, which we let to a notable VIP – the then heir and future Japanese Crown Prince, who was studying at Oxford.
The decorator was unaware of who the tenant was and decided to use the loo – whereupon he noticed a red button, wondering its purpose he duly pressed it. Within seconds, armed police surrounded the house responding to the panic alarm and the sky was swarming with helicopters.
He was terrified and later it was discovered Scotland Yard had not been advised of the Crown Prince's end of tenancy and departure.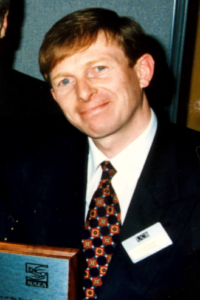 Over the past 35 years or so I'd like to think I've seen it all.
I left school not knowing what I wanted to do with my career. My role models were my parents who worked extremely hard. My uncle ran a very successful electronics business and my first boss, a man named John Eyre – a strict but extremely knowledgeable and commercially savvy Chartered Surveyor – taught me everything I needed to know about property.
My last boss Mary Channer taught me you could be successful in business and still hold onto moral values and ethics. She never held me back and kept my interest in her business for over 32 years.
I've been an estate agent; a letting agent and property manager; risen through the ranks to board director and vice-chairman. I've championed higher standards in the industry. I've served on committees for my professional Associations at NAEA and ARLA. I've worked with like-minded colleagues together with Civil Servants for the Ministry of Housing Communities and Local Government, towards the regulation of the lettings sector and improving the home buying and selling process.
My career has allowed me to travel to New Zealand and Australia to speak at property conferences and made some great business friends along the way.
I now run my own property consultancy and business advisory service from Oxford helping landlords and business owners to adapt and improve the return of investment in their property or business.
Back when I started, we had control of our day and our time and we had fun. Despite not having mobile phones, the internet or email, we got along merrily and enjoyed the job.
But as they say…'that's progress for you'.
You can find these insights and more in the 2019/20 edition of the Little Blue Book…coming soon
Stay up to date with the latest news and insights from Rightmove – follow us on LinkedIn

Frank Webster is an industry leader, advisor and former vice-chairman of Finders Keepers, the hugely successful Oxfordshire lettings agency that sold to Countrywide in 2016. In a 40 year career from estate agency negotiator to vice-chairman, Frank's walked many miles in the shoes of a letting agent and property manager.