How the most popular Keywords have changed during lockdown
Categories: Maximising your Rightmove membership
---
Rightmove's Keyword Sort tool not only helps home movers prioritise properties with certain features. By looking at the aggregated data, it also gives us a wealth of insight into the features and keywords that are most in-demand, and how that's changed over time.
We've looked at the Top 10 searched for keywords for Sales and Lettings during lockdown and compared them to pre-lockdown, with some interesting findings. Lockdown is defined as the period 24th March to 13th May, when the housing market re-opened in England.
Top 10 keywords during lockdown – Lettings
(arrow shows the change in position vs. 2019 average)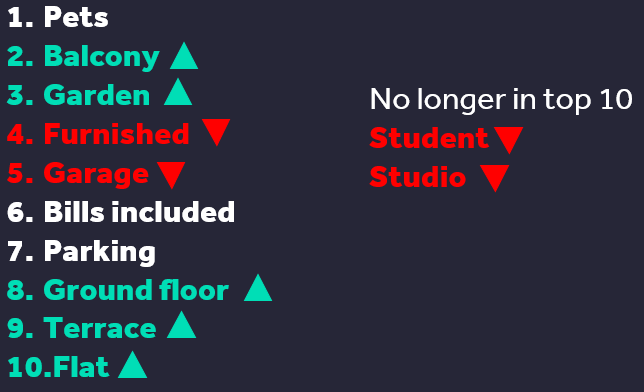 In lettings we've seen a jump in searches related to more outside space. Balcony and Garden have risen up the list and terrace has entered the top 10. Ground floor is also likely to have risen as ground floor flats are more likely to come with that outdoor space.
Those outdoor related terms have grown at the expense of the terms including Furnished. This could highlight some nervousness tenants may now have around touching second-hand items.
Student and studio have dropped out of the top 10 for lettings. This isn't surprising with with universities and colleges being closed. The drop in position of the term Studio likely reflects how tenants would prefer a more spacious flat if they're spending more time in it.
Top 10 keywords during lockdown – Sales
(arrow shows the change in position vs. 2019 average)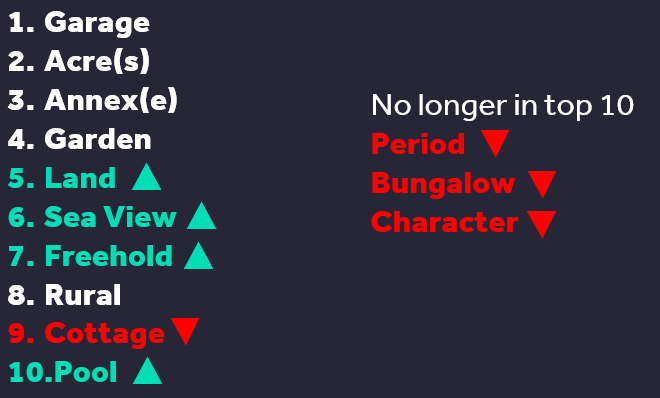 The changes in the sales list are more muted compared to listings. This is probably because terms like Acre(s), Annex(e) and Garden that have increased in absolute terms were already at the top of the list pre-lockdown.
They have though been joined in the top 10 by more outdoor-related terms like Land, Sea View and Pool (we can all dream!).
Freehold is another riser – perhaps reflecting a shift in buyer's thinking towards longer term stability in the current climate.
The words that have fallen are largely at the expense of outdoor words gaining in popularity. One conclusion you could draw from the slight fall in terms like Cottage, Period and Character is that in harder times, people look for substance over style. Size, space and location are more important right now, it would seem, than these "nice-to-haves".
Bungalow had unexpectedly dropped out of the top 10, with over 70's encouraged to stay indoors and being the most common demographic for a bungalow purchase.
Use insight like this to reignite your Rightmove listings
We exclusively revealed this insight on our "Reignite your Rightmove listings" live webinar. The recording is available to watch On Demand and is full of practical tips on how you can adapt your Rightmove listings to maximise enquiries based on the changes in user behaviour we've seen during lockdown.