How to create a winning mobile experience – tips from our User Experience team
Categories: Guest speakers & industry specialists
---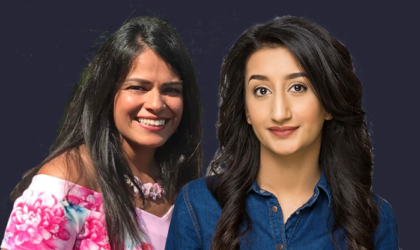 Hands up if you spend most of your day looking at a desktop screen. Us too. It's easy, then, to jump to the conclusion that most people looking at your website are on a computer.
But that's not true. In fact, more than 70% of time spent on Rightmove is on a mobile device. (Google Analytics, September 2019).
Has your website been designed with this mobile audience in mind? And if not, how can you make sure it is?
We asked Bejal Karia and Arooj Hussain from Rightmove's User Experience team for their expert advice.
Have a clear "mobile first" strategy
As with Rightmove, the majority of your website traffic is likely to be coming from mobile. You therefore need to make a conscious effort to always think "mobile first". Don't just replicate what's on your desktop website.
Check out your split of desktop and mobile traffic for free with Google Analytics.
Get clear on what's important…
What do you want people to do when they visit your website on a mobile? Work out your core objectives, then design your website around them.
For example, a core objective for a small estate agency might be to make it easy to book a valuation. If so, that needs to be the first thing someone sees when they land on your website. The experience of booking that valuation from a mobile then needs to be quick and simple.
…and get clear on what's not important
Just as important as working out your priorities is working out what you don't want people to do. By definition, everything that isn't a core objective is not a priority.
That means removing any clutter and secondary actions from your mobile experience to keep your user focused on the important things. Be ruthless. Every extra bit of text makes the screen more cluttered and gets in the way of achieving your main objectives. Move less important things further down your menu, or remove them from your mobile site altogether.
Consider the context
Think about your user's physical environment. What tasks are they likely to be performing on mobile versus desktop? Rightmove's mobile traffic peaks between 8-9pm, with spikes in the morning and early evening – suggesting people use their mobiles when travelling or watching TV.
Focus on simplifying those quicker interactions a user is more likely to make on a mobile: scrolling through properties, finding contact details and making enquiries.
Put your strategy into practice
Now you're clear on your mobile strategy, it's time to implement it.
Keep it simple
On small screens with varying internet speeds, you need to make it really easy for users to get things done. Here are a few practical things that can help.
Fonts must be clear and big enough to read (at least 14px on mobile).
Render all images to the size of the mobile, so they load quicker. Google offers a free PageSpeed Insights tool that gives more insight and advice on improving the speed of your website.
Use lots of white space and bullet points. They make everything easier to read.
Keep menus short and sweet.
Optimise your forms
One of your core objectives is likely to be driving enquiries, which means having an easy-to-find phone number and an enquiry form. As with all things mobile, our advice is to keep forms as simple as possible.
Use check boxes to minimise the need for typing, which is fiddly on a mobile.
Be brutal about the information you capture. Every extra field will reduce the amount of enquiries you receive, so focus only on the information you absolutely need in order to call or email back. Things like budget or ideal number of bedrooms are a "nice to have" at this stage and can be captured later over the phone.
What can you do now?

Check out how mobile friendly your website is
Put yourself in your customer's shoes and see what your website looks like on mobile. How many of the best practice tips above have you implemented on your website?
The quickest way is obviously to get your phone out and have a look. You can also a more detailed check from the comfort of your desk. On Chrome, right click on a page and click "Inspect" to see how your website looks on various devices and screen sizes.