Automated online viewing features are included in your Rightmove membership and can help you:
• Keep safe with fewer physical viewings
• Save time with fewer unnecessary viewings
• Prioritise the hottest leads for a physical viewing
• Convert valuations to instructions by impressing potential vendors & landlords with your ability to deliver their property video to the largest audience.
Over 130,000 listings are making use of our Online Viewing features. Are yours?
As we know the way you use videos is different, we've designed these features to be as flexible as possible. You choose the ones that suit your business best. The biggest time saver is the option for us to automatically send your video when someone sends a lead and then let you know once they've viewed it in full and confirmed their interest. Or if you'd prefer to just add an Online Viewing label to your listings and manage the way you share your videos once someone has enquired, that's easy too. The way you share your videos is totally up to you. We've got an option to support you however you prefer to work.
4 steps to setting up your flexible video sharing features
Step 1: From the Property List in Rightmove Plus

1. Spot it
See at a glance which properties have the Online Viewing label already. This adds an orange label to each of your listings to let applicants know that a video or online tour is available.
2. Add it
Click the Online Viewing button to:
• Add a video
• Activate the Online Viewing label
• Enable automatic sharing of your video with anyone that enquiries
• Send a manual email to the applicant with your video
Step 2: Choose your option for sharing Online Viewings

Option 1
Use the Online Viewing label + option on the lead form to allow applicants to request an online viewing
Option 2
Use the Online Viewing label + option on the lead form + go one step further by setting up an auto-response that shares your video on its own branded page automatically when someone enquires.
Option 2 unlocks all these benefits:
Top tip: Short-staffed? Use the auto-response to reply automatically to anyone who expresses an interest in online viewings. Then prioritise the leads that indicate an interest after viewing the video. You'll receive an email once someone has been sent the video, watched it in full and clicked to confirm their interest in the property.
Step 3: Track your video interactions using the Lead Report in Rightmove Plus

By the viewers
1 – Filter to see leads with requests for online viewings
2 – See the video interactions at a glance for each lead

By the property
1 – Download total video interactions for this property (auto-response + manual sends)
2 – See the video interactions for auto-response emails at a glance for each property
Step 4: Look out for email alerts when applicants watch the video and confirm their interest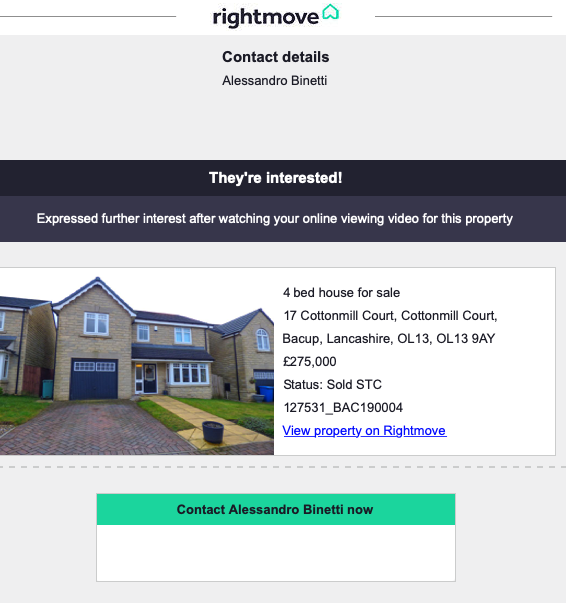 If you enable the automatic sharing of videos, you'll also receive an email alert from us when an applicant has viewed your video and confirmed they still want to view the property. Look out for these emails in your inbox as they come in to prioritise these applicants for a physical viewing.
Can't see Lead Reports in Rightmove Plus, or need help setting any of these features up?
We restrict access to the Lead Reports to help keep your customer's data secure. If you can't see the Lead Reports on your menu in Rightmove Plus, it might be because you don't currently have permission to see these reports.
Ask our Customer Support Team to change your permissions by emailing us at customersupport@Rightmove.co.uk.
They'll also be able to help you set up any of these features if you need a hand.
Want to drive more people to your online viewings? Double your exposure and accelerate your results with Featured Property 
Featured Property is the fastest and most effective way to increase your exposure to our audience of active buyers and tenants. It automatically places your property at the top of the search results page, typically resulting in at least double the detail views of a standard Rightmove listing. That gives you the best chance of maximising enquiries and finding a buyer or tenant quickly.